Carrie and I are back with our story of Love and Choices. 
here is Carrie's stunning offering this week with Gabriella's side : CLICK HERE. (GO! Read!) 
missed some of our STORY? CLICK HERE.
********************************
Gabby was ready to tuck into her steaming omelet when she remembered the gift she'd picked up for Justine.
"Here" She said, transferring the handles to her friend and picking up her fork.
"What's in the bag?" Justine asked, a smile spreading across her face.
Gabby winked, "Just a little something for my future sister in law, on the occasion of her own engagement."
Watching Justine rifle past the flimsy tissue paper and discover the blue box at the bottom of the bag, laughing when her friend squealed.
"Tiffany!?" she shouted in the quiet café.
"It's just a little something." Gabby said, turning her focus back to her eggs. "You'll see."
Justine shoved the tissue back into the bag and set the blue box in front of her. "You didn't have to…"
"I know…"
The girls' laughter again bounced off the wall as patrons at other tables peered at them over the rims of their coffee cups so the girls tried to stifle their amusement in one another.
"Sorry…" Gabby mouthed to a particularly annoyed matron sipping tea and doing the Times Crossword, but went right back to chuckling when her eyes met Justine's across the table. Remembering one of their first meetings Gabby smiled to herself, "I've never had a sister." Justine had said as she wrapped Gabby in a tight, welcoming hug. Right from the start, they'd been instant friends and it always  hurt that Justine lived so far away.
She knew why, now, but that didn't make not having her in her day to day life any easier. Gabby had Libby forever, but if she was going to survive life in the Taylor family after Steven became governor and she became first lady of the great state of New Year she was going to need as many allies as she could get.
That was, if she could forget how Seth's hands had felt on her just this morning, the third time this week she'd promised herself that she would ignore his calls, resist his sweet kisses, refuse his breathless pleas for her to stay the night and then she's find herself tangled, satisfied and completely blissful in his bed as sunlight streamed through the curtains.
Seeing Justine just complicated this whole mess of emotions. Knowing that Justine was the woman that Seth had shared his bed with and wanted to share his life with caused the knots in her stomach to tighten.
Jolted back to the table by Justine wrapping her arms around her neck and shaking the sterling silver bangle on her arm, Gabby returned the hug , 'You're so welcome, Jus. Do you like it?"
Justine made her way back to her own chair, spinning the bracelet, "Oh I love it, I've always wanted one." She got thoughtful for a minute, 'you'd think with all that Taylor money I'd have one wouldn't you? But sometimes even the rich are oblivious to want." Justine picked up her coffee cup and took on  a far-away look.
Uncomfortable with the silence, Gabby smiled and reached for Justine's hand. "Hey, why don't you tell me all about man who put that beautiful diamond on your finger?"
Shaking her head back to the table Justine pushed her mouth into a smile. "Oh. Liam. Well he's just about perfect, no matter what my dad thinks." She sipped her coffee. "I was engaged once before you know."
Gabby felt color rising on her freckled skin, not ready for this discussion.
"You were not!" she said, lying and hating herself for it.
"I was; to a really great guy. I loved him a lot." Justine's said as her eyes filled.
"So what happened?" Gabby asked, unsure of how much she could hear without breaking into tears too.  
"My dad." Justine answered, as if those two words explained everything. Which of course, they did, to anyone who knew Bud Taylor.
Justine leaned across the table and lowered her voice, "I don't know if I've ever really gotten over Seth. That's his name, Seth Foley. I'm thinking of seeing him, contacting him while I'm here just to make sure that there aren't feelings …lingering. You know? I don't know, I just want to be sure about Liam. Oh God, Gabby what do you think I should do?"
Justine's tears were freely flowing down her cheeks by now and Gabby feared her own would spill any moment, or that she'd open her mouth and tell Justine that she might be falling in love with Seth.
So she scooped the remaining eggs in her mouth while Justine's eyes locked on her and chewed, completely ignoring the fact that her future sister in law was waiting for an answer.
**********************
This week I used a new prompt, THANK YOU CARRIE, from Inspiration Monday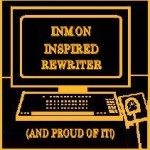 from bekind rewrite. 
The Prompts:
SILK PRISON**
WAITING FOR AN ANSWER
MIND CLUTTER
WHAT'S IN THE BAG
STAYING UP EARLY