Optimism swirls in the cosmos;
a solar commixture of hydrogen, helium and magic,
weaving , spinning against the inky background,
trailing stardust in its wake.
This is where I always look to find you, hidden amid reality and a reason to believe.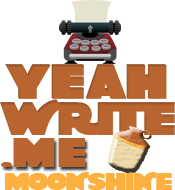 I missed posting for the BRAND SPANKING NEW
hosted by my friend Christine…
so I'm adding my answer to that prompt here in the Moonshine Grid instead.
42 words (no more, no less)
his week it's based on this thought:
What's so amazing that keeps us stargazing?
HAPPY WEEKEND Everyone!