Never.
(by choice)
It's the mention here or her name whispered there that stills my breath, reminds me.
All those memories misshapen (by my own hand)
to eradicate her from my
(better now!) life
help until
I close my eyes…
She's everywhere.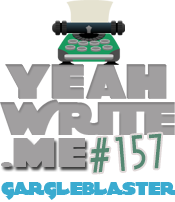 Week #3 of the GargleBlaster (YAY)
at Yeah Write and Christine's prompts are just getting better and better.
Have you joined in yet?
42 words (no more or less) for : 
Do you see her much?
So divine for the hopeless romantics like me. 
(and did you hear? I got Editor's Pick last week with "Soup's On!"