four years
three  months
two weeks
one day
and the clouds have ceased their chase of one another,
while the bullfrogs down on the bayou are struck dumb.
Seems the whole world's gone silent,
save for the lonesome ticking of my heart.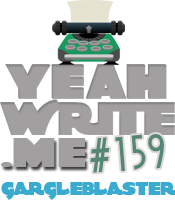 ****************************
The Yeah Write
Gargleblaster this week:
Suggested by Erica M, and comes from Alice Munro's short story A Real Life.
Have all your clocks stopped?